Good news!ukylin-wine is online!
For a long time, Ubuntu Kylin community has been actively collecting and adopting user feedback, knowing that users' demand for common entertainment and office software is becoming increasingly urgent, and the problem of too little ecology in Linux environment is becoming increasingly prominent. Now, here comes the good news! ukylin-wine is officially stored in Ubuntu Kylin source and launched on Ubuntu Kylin official website. At present, there are six applications available: QQ、WeChat、Tencent conference、Enterprise wechat、Photoshop and LanXin. Which one best meets your expectations.
---
ukylin-wine Introduction

ukylin-wine is a software developed based on wine, which is used to run Windows software compatible on Linux system. Compared with wine, it has the following characteristics:
it adopts the dependency self-contained scheme which similar to appimage,solves the function defect of wine caused by missing dependent package or wrong version,and make ukylin-wine applicable to multiple Linux distributions.

In order to facilitate users' use, the ukylin-wine scheme also seals the simulated windows application into a DEB package, which users can install and use directly, eliminating the cumbersome steps of configuring the wine program.
---
Software Introduction

Photoshop: An image processing software launched by Adobe

WeChat: A free application launched by Tencent to provide instant messaging services for smart terminals.

Enterprise wechat: An audio and video conferencing software owned by Tencent Cloud.

Tencent conference:An enterprise communication and office tool launched by Tencent's WeChat team.

QQ: An Internet-based instant messaging software launched by Tencent.
---
Wine software installation

Install from software store
Open "Kylin Software Store" from the start menu, input the name of any software introduced above in the search box, select the version ending with "wine", enter the download page, and click "Download".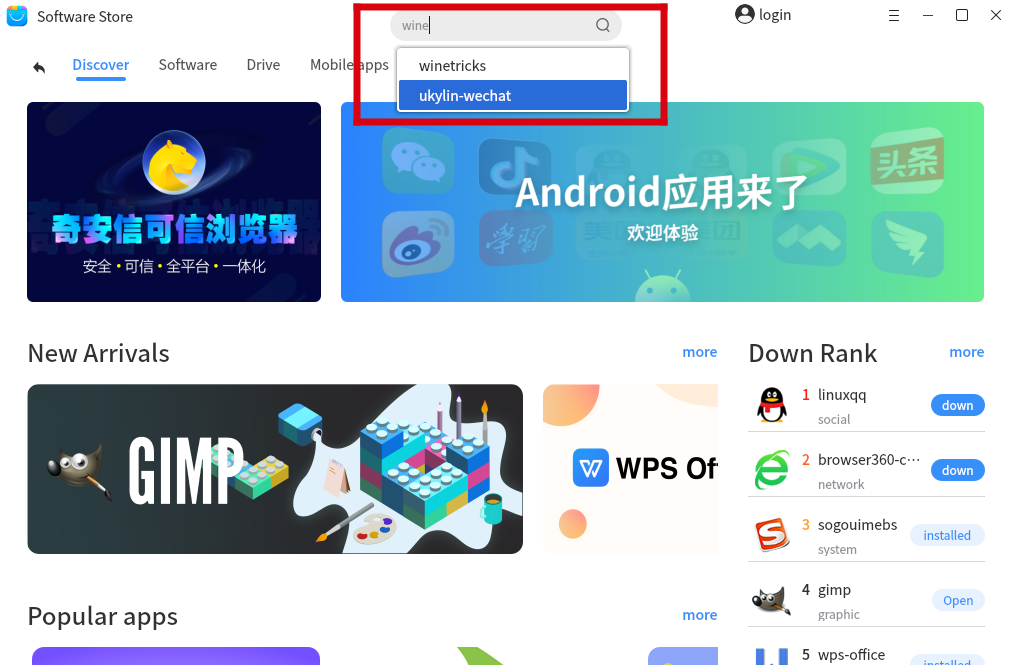 Install from source
1、Before using the source installation, you need to open the terminal and enter the following command to update the source:
sudo apt-get update
sudo apt-get upgrade
2、Use the source to install the Wine environment, continue to enter the following commands to install the Wine environment, the source installation can solve the software dependency problem to the greatest extent~
sudo apt-get install ukylin-wine
3、If you see this, I believe you have completed the Wine environment installation, and then we can install the Windows program. The following is an example of PS:
sudo apt-get install ukylin-ps6
4、In addition to PS, the source supports several other applications. After entering the following commands in the terminal, press the Tab key to see the software list~
sudo apt-get install ukylin-

Download Deb package and install
1、Wine environment package download link:http://archive.ubuntukylin.com/software/pool/partner/ukylin-wine_70.6.3.25_amd64.deb
2、Enter the Wine area of Ubuntu Kylin official website you can download various software packages~ (https://www.ubuntukylin.com/applications/img.php?class1=182&lang=en )
3、After the package download is complete, use apt-get to install the Wine environment first, and enter the following command in the terminal to install the Wine environment:
sudo apt-get install -f -y ./ukylin-wine_70.6.3.25_amd64.deb
4、Then enter the following command to complete the installation of the Windows program Deb package, and enter the following command in the terminal to successfully install it.
sudo apt-get install -f -y ./photoshop-cs6_test1.0_amd64.deb
---
The end

At present, ukylin-wine is adapted to 6 applications. Among them, a large number of bug fixes have been done for the Windows version of WeChat, which is commonly used in China, so that WeChat has reached a relatively stable state and provides users with a good experience. At present, the main development and testing work of ukylin-wine is based on the open source operating system of ukylin-wine, which runs well. At the same time, ukylin-wine can also be run on Ubuntu and other Deb package management Linux systems.
In the future, ukylin-wine will continue to adapt to new software and fix more defects and problems.If you encounter problems during use, you can leave us a message on the following social platforms
Twitter:Ubuntu Kylin (@Ubuntu_Kylin) / Twitter
Facebook:https://www.facebook.com/UbuntuKylinLinux
Telegram:https://t.me/ubuntukylin
Finally, which app do you most want to be available in the ukylin-wine zone?